NEWSLETTER
Hot off the web presses, join now on this confidential list to receive news and updates about this site. Only available to our subscribers are invitations to submit writings for special occasions.
HAPPY ANNIVERSARY


Join us in celebrating our 15th ANNIVERSARY. We have been providing this inspirational and entertaining site to you since October 20, 1996. It's been an amazing journey of discovery, maturity and inspiration.
POETRY CONTEST:
We have discontinued our poetry contests but please check out past winners.
Year of the Tiger
Check out the Metal Tiger beginning Feb 14, 2010.
POETRY CORNER:
More than Words by Angelwing

JOKES:
A Comic strip which follows the misadventures of two young children trying to make straight the crooked world of grown-ups by Jason Kotecki - listed in Joy of Laughter
@ Dirty Jokes - Famous Sex Quotes

QUOTATIONS:
@ Insanity Part III
FEEDBACK:
Your comments & suggestions shaped this web site. If you wish to recommend a web site or submit a quote, please email us. Thank you!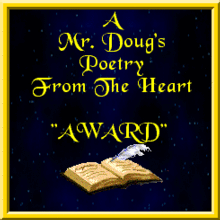 December 9 - Our site was awarded Mr. Doug's Poetry from the Heart award.